(This blog participates in affiliate marketing, some posts contain affiliate links. You can read my full disclosure statement for more information.)
Handwriting. Calligraphy. Typography. Fonts.
Everyone is crazy for lettering right now!
Last fall after much prompting from friends, I shared a series of introductory lessons for improving your handwriting and getting started with creative lettering.
A few friends grew to thousands faster than I could keep up! You all really wanted to learn how to get better at lettering.
Maybe you're like me, and you learn much better from seeing demonstrations than from trying to decipher things from a book.
31Days to LoveYOURlettering is a series of blog posts coupled with demonstrations that were held over Periscope.
My love for calligraphy and lettering started in middle school. I'm left-handed and struggled through elementary school penmanship, smearing my words as I wrote.But when I saw beautiful calligraphy samples, I knew I wanted to learn in spite of what I'd long heard.
"Lefties write sloppily." "You'll smudge everything." "This pen was made for right-handed people."
Armed with a calligraphy marker and the Speedball handbook, I accepted the challenge. I started to find methods that worked for me. In high school I had the privilege of studying calligraphy under Mrs. Gutman, and will never forget the beautiful ketubahs and calligrams she shared… nor will I forget her patience with my lefty quirks. I never did hold the pen properly.
Fast forward more years than I'd like to admit, and I've never given up my love of beautiful writing. Scrapbooking gave me lots of opportunities to practice creative lettering and now the resurgence of the handwriting movement has sparked new interest.
I don't want to teach you how to write like me.
I love demonstrating handwriting and calligraphy, but my goal is not to have lots of people that know how to write and draw like me.
My goal in sharing any instruction here on the blog or in video demonstrations, is to give you the tools you need to find your natural style and flair in handwriting and creative lettering. You don't need to be an artist to have lovely handwriting. Penmanship is a discipline that takes practice and time.
Access the entire series from the index page, or by clicking on this picture: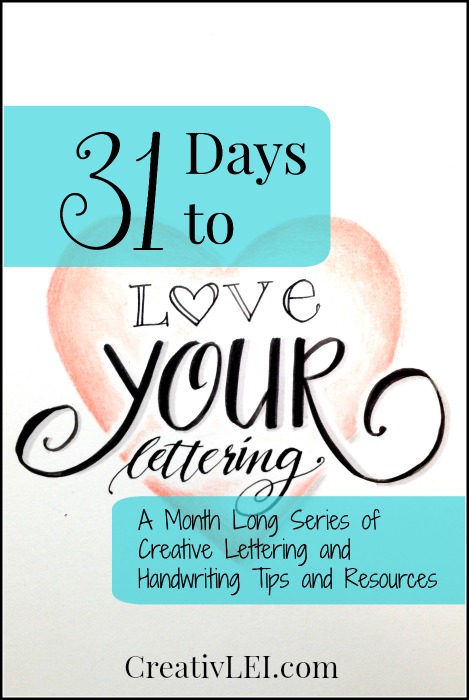 If you'd like to be the first to know when a new series begins, or when printable pages become available you can sign up for our monthly updates.

 New for 2016!