This is quite possibly my biggest blogging challenge to date!
You've asked for handwriting tips and creative lettering ideas and talked about how you're not happy with your own penmanship. Well, this October as part of the #write31days challenge, I'm challenging you to #31Days to #LoveYourLettering!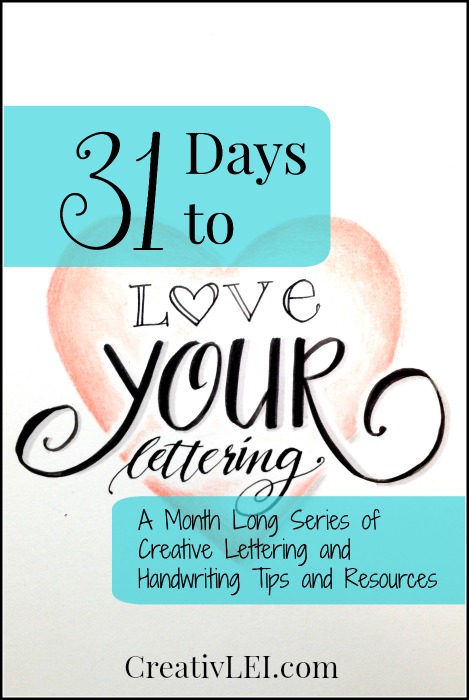 When I first floated this idea for my #31days series I got some good feedback, Then, I started writing a little more, and asking you all for some more input and you all blew this out of the water! Now I'm all in!
We're going to have a month of learning and practicing together.
From complete beginner, to avid pen-snob, to passionate journaler… you're all welcome and I hope we can all learn and glean from one another. I'm just here to facilitate the fun and answer any questions along the way.
What will the series look like?
Each morning in October a post will go live in the HAND-crafted category. It will have the instruction and assignment for the day. Some days may have printables, all will have photos to show what I'm asking you to do. The assignments won't take too much time. I know how incredibly busy you all are, and the key to getting us all through #31days is to keep it short, sweet, and do-able!
Live demonstrations and chats on Periscope!
At night, I will use Periscope for a live broadcast of the day's post instructions and supplies.
What if I'm not on Periscope? Don't worry! You may not be able to participate in the live scope, but you can still ask your questions here or on the Facebook page. I will be embedding the replays into the posts as we go! It's just a chance for me to get instant feedback from you all on how it's going and talk more about anything that isn't coming across clearly.
What will we talk about this month?
Here are the prep posts:
Do You Want to Learn Hand-Lettering (This includes a list of some of the best lettering supplies I recommend.)
Is #LoveYourLettering for Me? (This post answers some of the frequently asked questions about the series.)
Here's the tentative line-up for October (subject to change):
Each of these titles will become a link once the post is live. You can bookmark or pin this page for future reference.
10/1  –Putting Together A Penmanship Notebook / Affirmation Page
10/2  –Identifying Your Natural Handwriting
10/3  –Basic Letter Forms
10/4  –Catch-up Day!
10/5  –Refining Your Handwriting
10/6  –Altering Your Handwriting
10/7  –Adding Whimsy
10/8  –Faux Modern Calligraphy and Typography
10/9  –Adding Color
10/10 –Finding Inspiration / Catch-up
10/11 –Letter a Quote in any Method From This Week
10/12 –Using a Calligraphy Marker (Basic letter forms)
10/13 –Print with a Calligraphy Marker
10/14 –Italic writing with a Calligraphy Marker
10/15 –Mixing Calligraphy and a Fine Tip Pen
10/16 –Flourishes
10/17 –Finding Inspiration / Catch-up
10/18 –Letter a Quote in any Technique from this week
10/19 –Preparing for Brush Lettering
10/20 –Brush Pen Basics
10/21 –Using a Brush Pen with Your Handwriting
10/22 –Modern Calligraphy
10/23 –Flourishes
10/24 -Finding Inspiration / Catching-up
10/25 -Letter a Quote in any Technique from this week
10/26 – Watercolor lettering with a brush pen
10/27 –Watercolor resist lettering
10/28 –Mixing Techniques for Creative Lettering
10/29 –Some Helpful Books
10/30 –Some of My Favorite Supplies
10/31 –Finishing What You Started
I'm seeking your feedback to make sure I'm covering the questions you have. Don't see something on the list? Be sure to ask about it and I will do my best to cover that topic.
Be sure to tag your posts with #LoveYourLettering on Facebook and Instagram! Tag me so I can cheer you on, @CreativLEI!
Companion guides are available for purchase.
You are invited to work through this series for FREE at your own pace by following the instruction and videos in the posts, but I've made the guides available for those interested in following along more closely to printable pages.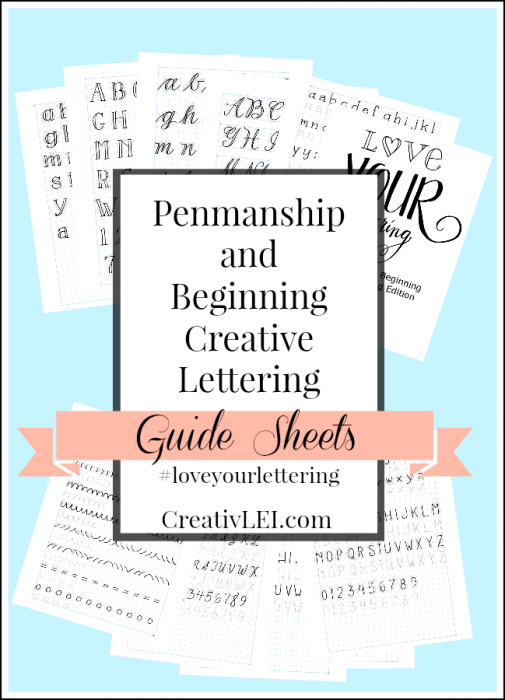 Have fun with these letter forms, I'll see you tomorrow!
I'm excited to have you join me this month! Are you ready?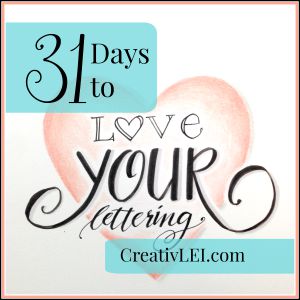 Subscribe here to stay updated on new posts and series!