On September 29th, 2011 after a healthy and uncomplicated pregnancy and labor, our sixth child, a daughter, Miranda, was born in a planned homebirth.
While I heard the glorious sound of her first cry as she entered the hands of my husband and my midwife (CNM), I was quickly told that she was in distress and turning blue and some minutes later we were told that she would need a transfer to the hospital after failed attempts to resuscitate her at home.
She was transferred to three hospitals within the first 24 hours of her life and was placed on full life-support by means of ECMO (extra-corporeal membrane oxygenation, heart and lung bypass).
Through many interventions we were unable to reverse the cascade that began at her birth.
Miranda died at 28 days old on October 27th, 2011.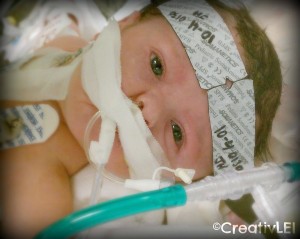 Her story neither began nor ended on either of these days.
For You formed my inward parts;

You wove me in my mother's womb.

I will give thanks to You, for I am fearfully and wonderfully made;

Wonderful are Your works,

And my soul knows it very well.

My frame was not hidden from You,

When I was made in secret,

And skillfully wrought in the depths of the earth;

Your eyes have seen my unformed substance;

And in Your book were all written

The days that were ordained for me,

When as yet there was not one of them.

-Psalm 139:13-16
While the posts on this blog are not all open declarations of our loss please understand that our lives were forever altered by her, and not a day goes by that Miranda is not missed by all who knew her, even for so few days.
I believe, by God's grace, He has blessed me with opportunities in the wake of Miranda's loss to be used by Him when I am obedient to His word. I seek to bring Him glory, as it is my life's purpose just as it was Miranda's sole purpose.
If you are a mom who has experienced loss or are facing the possibility please don't turn away because I also talk about my living children. While we may not be walking the same path there is love and understanding for the pain you are bearing. Posts under the category "Healing Heart" deal specifically with facets Miranda's life and loss.
If you are a mom who has considered homebirth please be open to this testimony of loss, because a perfect outcome is not guaranteed to anyone and I do hope that the story of my daughter will bring you to an understanding of the very real risk of loss, even to a low-risk pregnancy. Know the hard questions to ask of your midwife. Do not hesitate to walk away from a practice that is unwilling to truthfully answer your questions. I do understand that you are trying to choose what is best for your child and that you are not merely fueled by selfish motivations.