Are you looking to improve your own penmanship? Do you want to begin calligraphy and creative lettering?
Can you commit to a month of FREE lettering videos and tips to help you learn to love your own penmanship and lettering?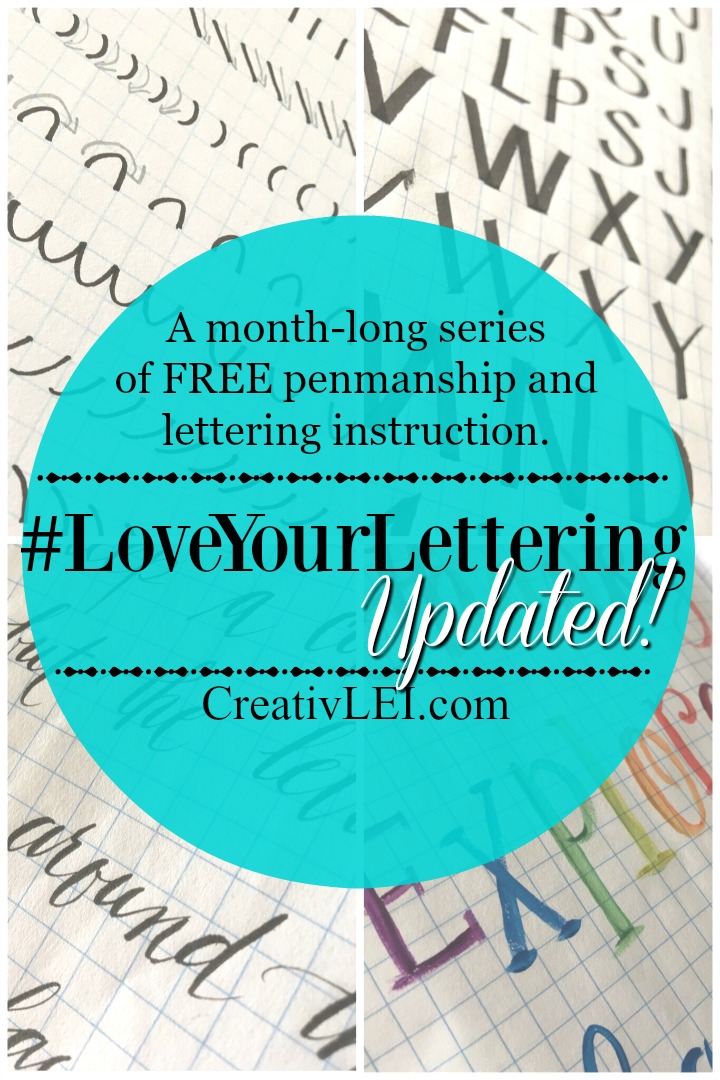 Love Your Lettering was originally written in October of 2015. It is time for an update and now seems like the perfect time for a Love Your Lettering update!
My own love for calligraphy and hand-lettering began back in middle school and has never faded…
The goal for the Love Your Lettering series is not to teach you how to write just like me, but to develop the techniques you need to grow your confidence in your own unique handwriting and lettering style!
Whether you are looking to improve your penmanship for writing in your planner, sending out snail mail, taking notes, or you are interested in getting started with basic calligraphy skills and hand-lettering techniques, I can help you!
Disclaimer: I'm a left-handed letterer. I also can demonstrate proper grip with my right hand, so I won't leave the righties stranded.




Why is Love YOUR Lettering free? What is the catch?
I am committed to giving you quality instruction that truly builds your skills and confidence, this series will give you full access to blog posts and instructional videos that give step by step guidance as well as live broadcasts to help answer your specific lettering and penmanship questions. The series is free because I understand that you may want to purchase the suggested supplies to follow along each week. I don't want you to choose between having good tools and good instruction, I want you to have both!
What supplies do you need for Love YOUR Lettering?
I want to keep the costs of starting your lettering journey as low as possible without sacrificing quality, because using inferior supplies can be frustrating!
The Love YOUR Lettering series progresses through four weeks of introductory lettering techniques and habits.
While this is not an exhaustive list, the following supplies are the basic tools suggested to successfully follow along each week, links included are affiliate links (Please read the full disclosure policy for more information.):
Week 1: Basic Penmanship and Creative Lettering
Using a good pencil and/or pen we will look at our natural handwriting, break down the components of proper letter formation, revisit foundational letter forms, and introduce creative aspects of lettering. You will use the same notebook throughout the series. The Rhodia DotPad is my preference because of the paper quality, but a grid/graph composition book is a good start for a tighter budget. A good set of colored pencils are also helpful during this week.
Week 2: Broad Nib Calligraphy
Making use of a broad nib (or chisel tip) calligraphy marker we will discuss proper grip and angles for producing basic print and italic calligraphy hands. You will only need one type of calligraphy pen. I will demonstrate using a felt-tip calligraphy pen as well as a Parallel pen.
Week 3: Basic Brush Lettering
I know this is really why you're here. Don't worry, I love brush lettering too. We'll dive into basic brush lettering and modern calligraphy using brush pens. The Fudenosuke pens receive my highest recommendation for beginning brush lettering. These fine nib brushes help to introduce the variations of pressure between up and down strokes while lettering. We will begin the technique with pencil to practice to help preserve our nibs.
Week 4: Watercolor Lettering and Combining Styles
During our final week, we take the basics and stretch our boundaries a bit while exploring lettering techniques with watercolor. The Tombow Beginning Brush Lettering Set contains a number of the supplies I'll use throughout the series.
Do you want to receive a daily reminder for the day's lesson?

How will I receive the Love YOUR Lettering assignments?
Each day the full instructions will be posted here on the blog along with a YouTube video of technique demonstration (yes, all the old videos are finally being edited). You are welcome to subscribe above, so that you will receive an assignment reminder email Monday-Friday during the month, with a link to the day's post.
Please join the FB group to share your work with others working through the series. You can also ask your lettering questions within the group to help with any techniques that you struggle with.
During the month of May:
Thursday evenings at 9:30pm (Eastern) I will be live on Periscope for your questions and additional demonstrations.
Friday afternoons at 1:00pm (Eastern) I will be live on Facebook for your questions and additional demonstrations.
I'm so excited to work through the series with you!
If you have any questions about what the month will hold, please email me, comment below, or post your question in our new FB group.