It's time to get started on another month-long journey of penmanship, handwriting, and creative lettering! I'd like to use this post to introduce you to the format of the series and answer a few questions regarding #loveYOURlettering: Part2.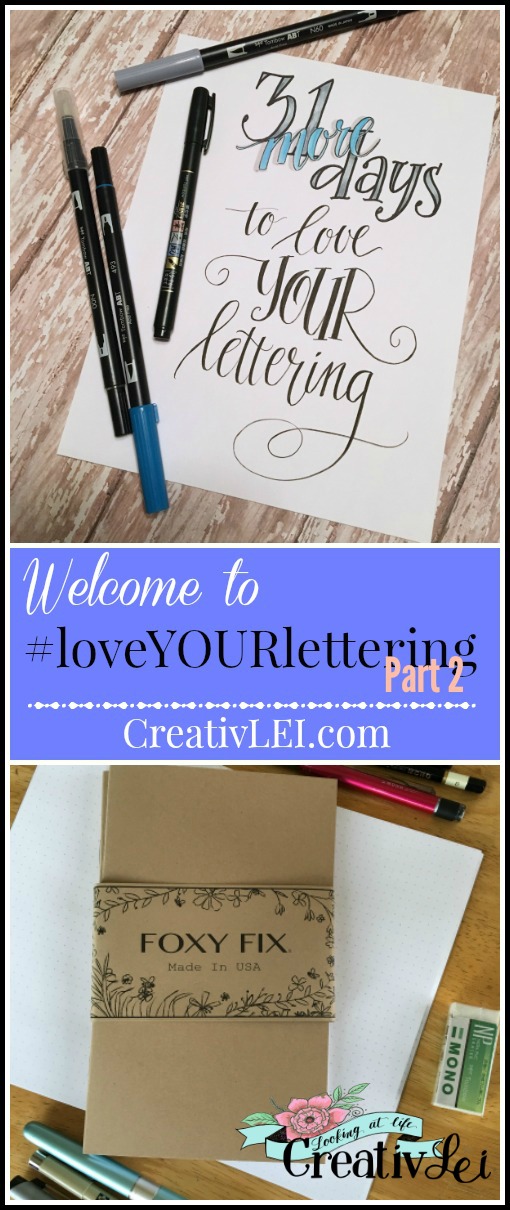 Throughout the month of October I will be sharing a series of posts that will review some basic penmanship topics as well as help you dive deeper. We will discuss style and design, and exploring different mediums for creating lettering.
How it works.
Monday through Friday a new post will go up each day with the lesson/assignment. Feel free to work through it at your leisure. At around 9:30pm(Eastern) I will be on Periscope to demonstrate the day's lesson as well as answer any questions that came up while you were working through the assignment.
Weekends are for catching up! Feel free to go back over any lesson you missed or revisit one that gave you any trouble. Saturday's are I will be on Facebook Live on my page (but I need your input for a good time to go live). Sunday's are for gathering inspiration for the coming week.
Whether you're browsing Instagram or Pinterest, start creating folders to curate some of the things that are helping form your lettering goals.
Is it really a FREE lettering class?
All of the posts that will be shared here on the blog are absolutely free for you to follow along. Calligraphy and creative lettering is something I've worked at learning since middle school. Penmanship is something I view as a treasured piece of each person's legacy. I'm excited to share with you the tips and techniques I've learned and adapted over the years to grow your lettering skills.
I've left this series of instructions free because I know there are many of you out there who've wanted to work on your handwriting or calligraphy for years, but it's never been in your budget. I know what it means to put my desires last for the sake of a growing family and I just don't think that creative ventures should always be that way. I also don't want you to have to choose between the tools and the instruction.
Where can I print the lettering guides?
This series was written to be worked through via the blog posts as well as the live video broadcasts, therefore printable guides are not included. I am currently working on the ebook companion to #loveYOURlettering: Part1 and will keep you  posted as it gets ready to launch.
My goal is to have the ebook for this current series ready much sooner after we complete all of the demonstrations. These ebooks are not required to follow the series. They are offered for purchase to those that have requested guides and exemplars of the alphabets I've presented.
Can I join even if I haven't finished Part 1?
Absolutely! Jump in and we'll get you caught up. You may find that you use the weekend catch-up to refer to posts from the original series. That works!
Any time you have questions, feel free to send me a message.
Do I have to sign up?
Since it's a free blog series, you're welcome to follow along just by coming and visiting the site. If you would like to receive post notifications through email, I encourage you to subscribe for updates. Be sure to select loveYOURlettering if you want daily emails through October.
I'm looking forward to more lettering and design with you!