Apparently I'm the only mom who hasn't created and amazing summer bucket list for my children. That must mean I suck at the mom thing, right?
I don't care that we don't have a summer bucket list!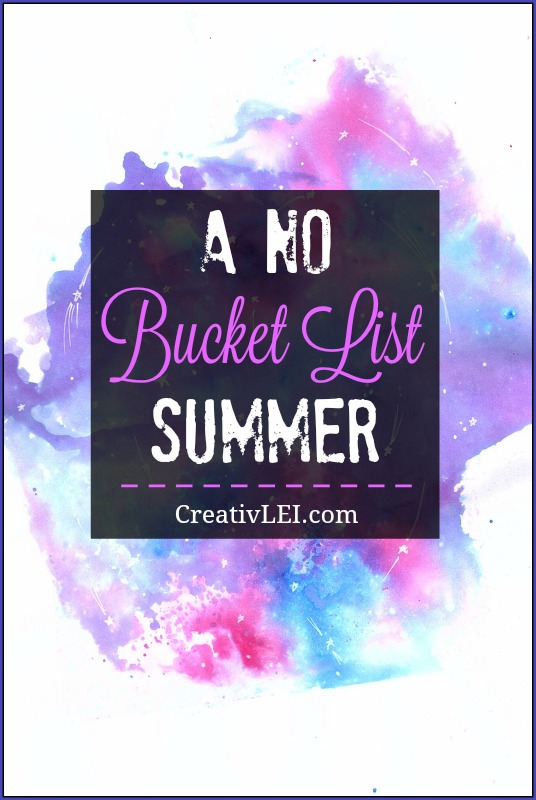 Full disclosure: In the past I've done it. We created a summer bucket list, I blogged all about it and we even did something pretty extravagant from that list. But this year I'm making a choice to NOT create a bucket list.
I'm definitely not hating on those that enjoy bucket list activities.
I hope you have a blast and I really do love watching the photos of your summer fun through Facebook and Instagram! However, for our family, it just isn't the right choice.
I'm choosing to not have a bucket list, because I don't like the results!
Let's be honest, as moms, we're often really disappointed when our children are ungrateful for the little things we do. From the mundane, like feeding and clothing them, all the way up to the times we go out of the way to create special moments and memories for them.
(CreativLEI.com participates in affiliate marketing and advertising. Some links contained in posts may be affiliate or referral links. Details are in my disclosure statement.)
Maybe I'm the only one?
If we don't want to raise entitled children, why do we curate every. dang. minute. of life as something that's hopefully Pinterest-perfect?
I quit that!
I'm just plain tired of dealing with ticked off, tantrum-ing children because of unmet expectations that I GAVE THEM! Yes, expectations that I created and couldn't fulfill. I'm tired of being pestered to know, "Is today the day?!" Only to disappoint them with a, "No, that's not today."
My bucket list may start with all the best intentions. I mean really, who doesn't want their children to look back on childhood with amazing memories of days gone by?!?! But what happens when life gets in the way? What if we can't get to that hoped-for event because something more urgent, and probably a lot less fun, comes up? What if the fun-money I've budgeted for a play day or trip needs to be used to help someone else?
And there's the rub…
I'm not creating a bucket list because I'm tired of unintentionally teaching my children that life is all. about. them.
Starting at an early age, my husband and I like remind our children that they should always be ready for a blessing. That little phrase helped them to see that at a moments notice, something they had no idea about could be waiting for them, but that the blessing could be forfeited by choosing selfishly, by deed or behavior.
And now that they're getting older I want them to not always be ready for a blessing, but to try to be that blessing!
This summer I'm reminding myself and my children to always be a blessing first!
…and we don't need a bucket list for that.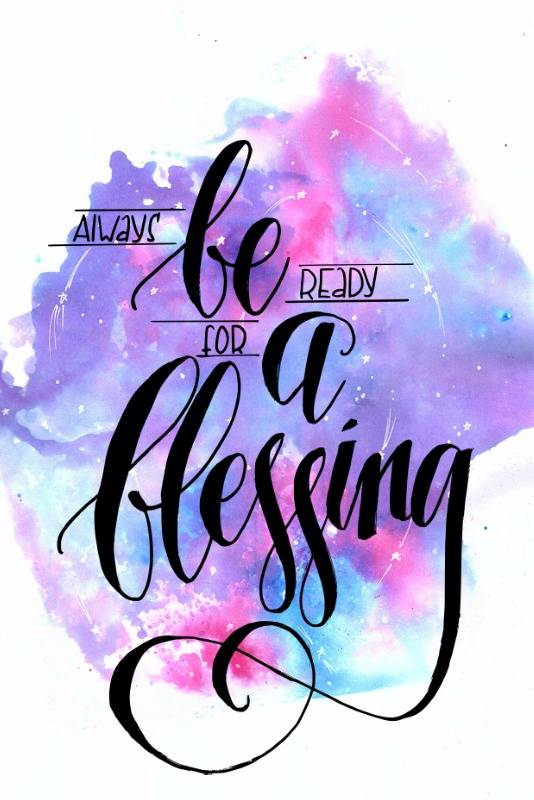 We've moved to a new town and I'm hoping that we'll continue to meet neighbors and open our home to many guests.
I want them to explore our big backyard, run through the stream, roast marshmallows, and maybe camp-out.

I hope we'll pick local fruit, attend discounted movies, and visit the beach.
I want to help them keep their eyes open for ways to serve instead of being served.
And when I catch them putting others first, I want to celebrate it.

Sometimes that will mean a trip to Sheetz for a milkshake. Maybe even a trip to a theme park. Other times it will just mean a board game or movie night at home. Or saying yes to an off-the-cuff sleepover.
The memories are made in the moments we're together, not just the plans to be together.
No, we don't have a bucket list, but yes, I know we'll have fun this summer. Some might be planned (with that  information withheld from the children) and most will be off-the-cuff.


And if they get bored? That will be okay! That boredom can lead to creativity, given the right circumstances. Give them the clipboard to their own itinerary instead of being their constant hostess. It's good to give them some ideas occasionally, but we'd be better off helping them to make some of their ideas a reality (when it's reasonable) and boost their pride in something they've actually accomplished and watching their plans come to fruition!
Are you bucket-less this summer?
If want something to hang on your fridge, you can download and print the Be a Blessing watercolor print from this post. I hope your summer is blessed!
[wp_eStore_free_download_squeeze_form id=14]