We've hit another weekend in our #LoveYourLettering challenge. It's time to reflect, catch-up, and look around us for inspiration.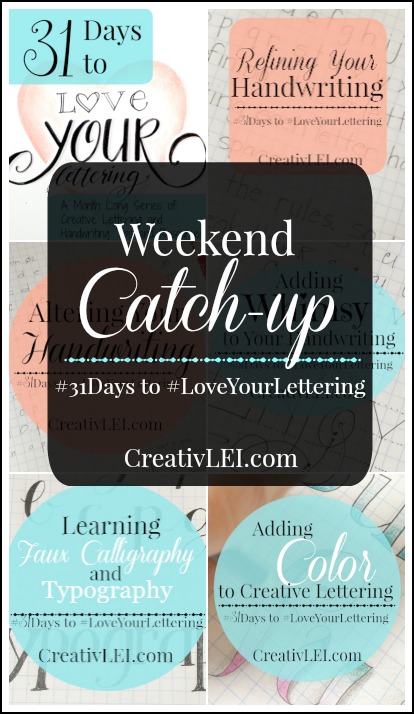 There is no new technique for the weekend.
We've covered a lot of ground this past week and now is time to relax and play with some of those techniques that we've been working on.
One of my favorite ways to look for lettering inspiration is to browse Pinterest and Instagram. There are lots of great calligraphers, artists, and graphic designers that are sharing their work. You don't have to be able to draw or write things exactly as they do, just look at how they combine styles. Find ways to incorporate design ideas into your own lettering style.

I've said it a number of times so far and will continue to say it, our goal is not to walk away from this month with all of our writing looking identical. Instead, we're going to use the techniques and principles we talk about to improve our individual handwriting and spur us on to creative lettering.
Your handwriting is part of your legacy, embrace it!
Look at the hashtags #lettering, #calligraphy, and #typography for some ideas. Look through magazines and books around your home for eye-catching lettering.
Use a couple of pages in your lettering notebook to draw out some of those ideas.
Just have fun and enjoy the process.
You can even go back to the letter form exercise. Practice the different strokes. We'll be returning to that assignment with each new pen type we introduce in the coming weeks. The rhythm of drawing out those shapes can be a bit therapeutic, too.
Here is my board on Pinterest where I collect lettering and handwriting inspiration:
Follow Lisa Walters (CreativLEI)'s board Lettering and Penmanship on Pinterest.

How are you doing so far? Is there anything you'd like to see covered in our Periscope chats?