On day 2 we wrote samples of our natural handwriting, then we stepped back to look at which shapes form each letter. Now, it's time to combine those two exercises to refine our handwriting.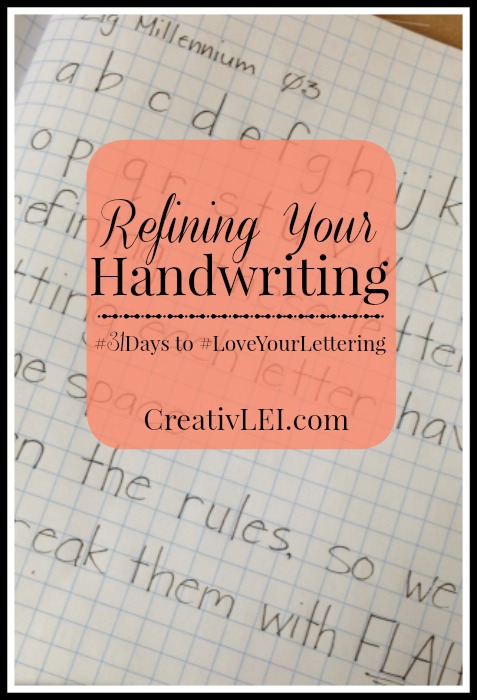 Let's analyze our handwriting.
*video updated, 2017*
With a pencil we're going to go back to our handwriting sample page and look for places where our letter forms get diminished. Circle the spots where individual letters start to lose their unique identity.
In order to comfortably push the limits of natural handwriting into creative lettering, we'll want to have full confidence in our writing.
We're not writing shorthand, we need to make sure we're completing the whole letter. I noticed that sometimes when I'm writing fast, my 'e' can start to look like an 'o'.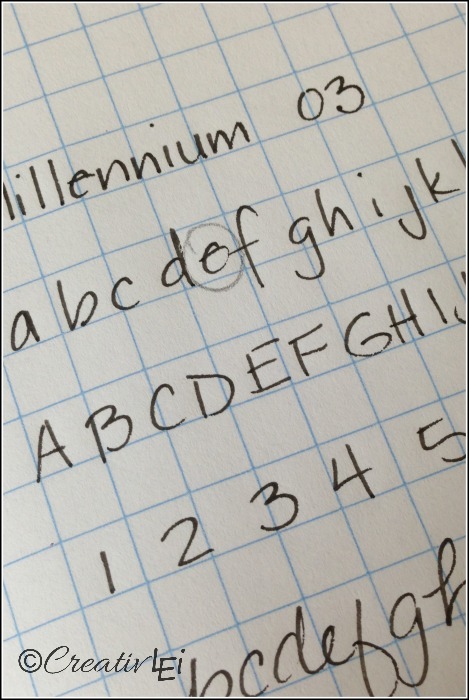 Do you mix print and cursive? I often do, but I noticed that when I combine the two styles, some of the letter joins start to resemble a different letter all together! This 'ou' combination actually starts to look like my cursive 'r'.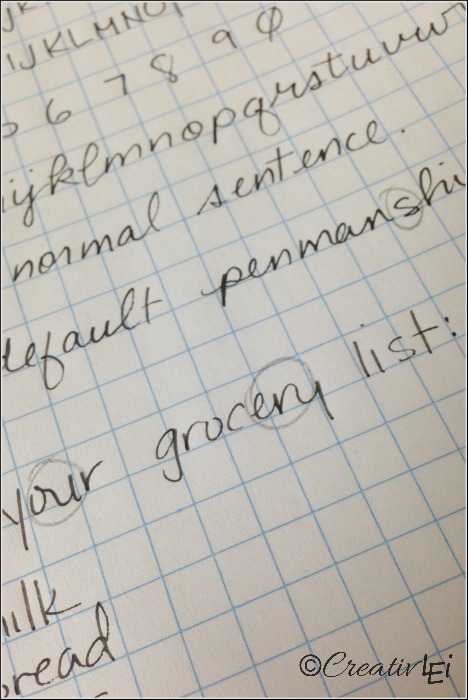 The way I've connected this 'r' and 'y' looks like an 'n'!
Other times my haste smooshes (yes, a very technical term) letters and leaves no 'breathing' room.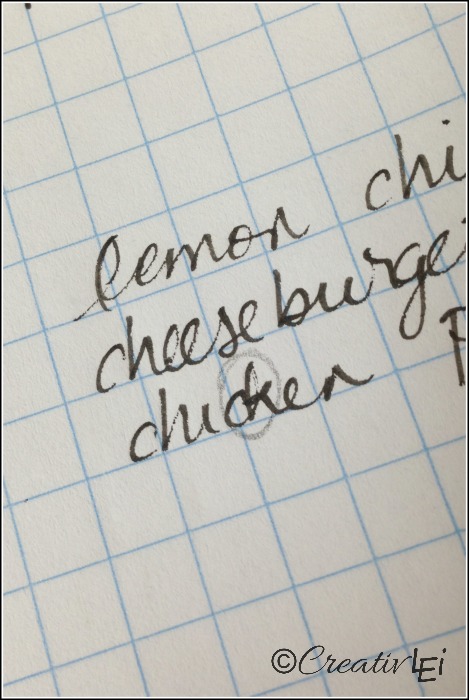 Now, let's write another page of samples, this time taking our time and paying attention to the full form of each letter. Try to place one letter in each square (one of the reasons I love graph paper). Allow the miniscules (lower case) to fill the whole box, and let the ascenders (the b, d, f, h, k, l, t) and descenders (g, j, q, y) rise or dip from that box.
Don't worry, we'll get back to personal style and flair, but for today we're looking at properly formed letters.
Yes, this will bring you back to penmanship practice from grade school.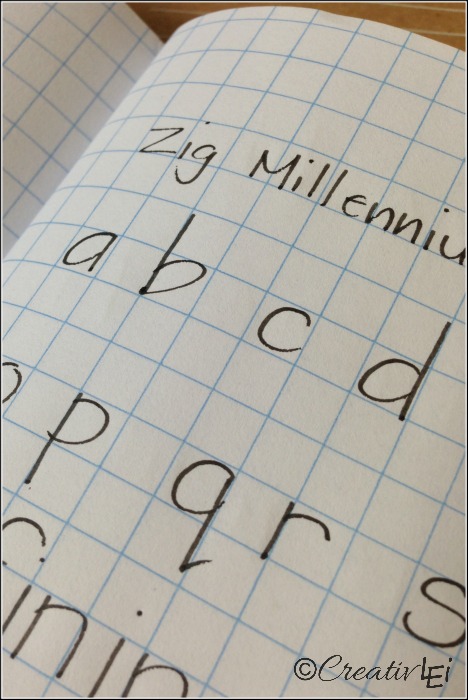 Use the grid as guidelines for your ascenders and descenders.
I'm focusing on the miniscule letters, since those are the ones we have a greater tendency to allow them to run into each other and lose their form.
I also wrote a couple of sentences, taking time to give each letter its own space. I also added a bit of encouragement.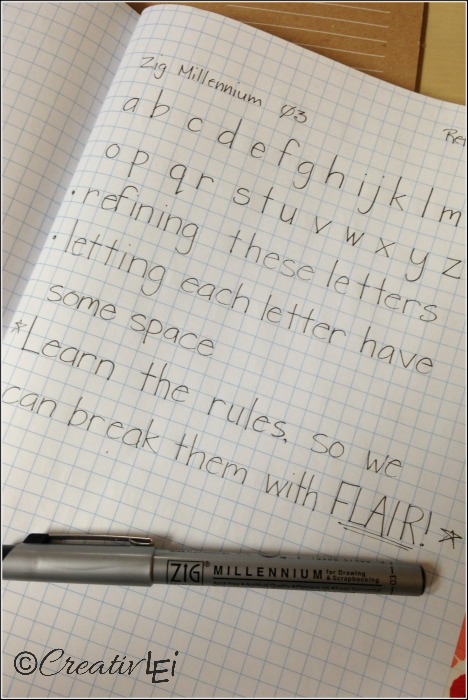 We need to learn the rules, so we can break them with FLAIR!
To practice cursive, I'm writing two of each letter so that I can watch how I connect the letters.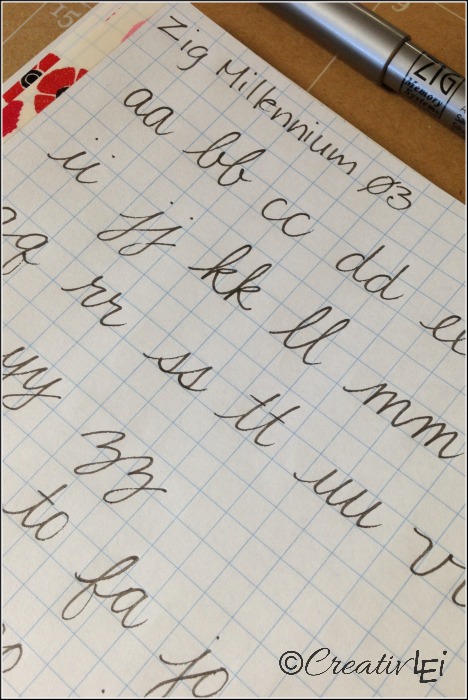 Then I also practiced a few different pairs of letters, since they join differently depending on the letters.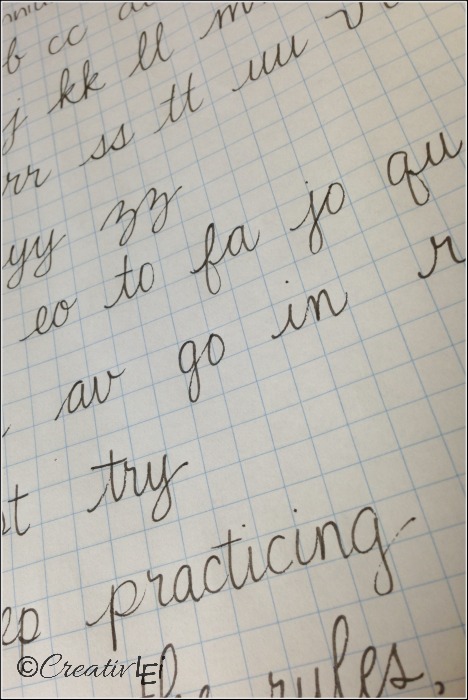 Then jot a couple of sentences.
Did you notice what I did? We'll talk about combining styles and whimsy later in the month, but can you see how FLAIR in all printed capital letters looked great and added punch, but in all cursive capitals, not so great? It looks jumbled and clumsy.
This is why we learn rules… to break them well!
Practice these on a couple of pages if you find this helpful. Tomorrow we'll be switching it up and bending these rules. Make sure to repeat the letters and combos that you found to be struggle spots from your original sample page.
Watch the video demonstration of how I write out the print and cursive alphabets:
How are you doing so far? Do you need more help with any of these?

Looking for printable guide sheets?
There is now a companion guide available for this portion of Love Your Lettering, if you feel more comfortable working through a printable guide: