What can I say, I'm an Italian-American from New York. There isn't really a dessert I love more than a good cannoli. Unfortunately cannoli love to 'stay with me', around my middle section, my thighs, my… You know, all the places you DON'T want extra baggage. This is my super simple quick-fix against my cannoli cream crave.  I really don't enjoy the cannoli shells, someone else will have to replicate those. Give me a big bowl of cannoli cream and a spoon and I'm a very happy girl!
Sugar-free Cannoli Cream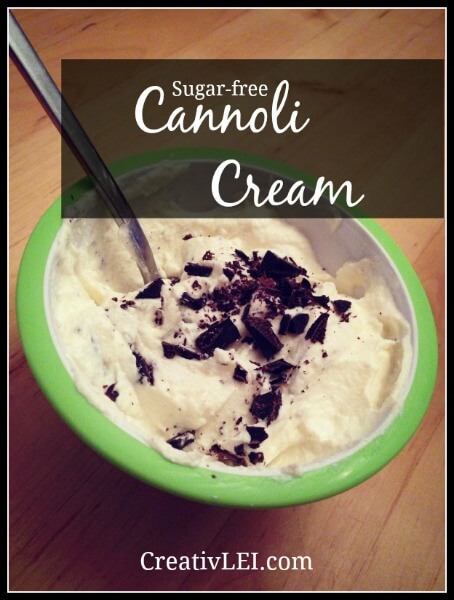 This post contains affiliate links, if you make a purchase through my link I will earn a small commission from the company at no additional cost to you. When I earn money from affiliate programs it goes towards the upkeep of this site and purchase of new products to share with you. My disclosure statement is available here.

There is a grocery store near my sister's house that sells cannoli cream as a dip… It's a good thing I live over three hours from there, or I'd have had much more weight to lose! Surly I could replicate the creamy taste I love to fit within the Trim Healthy Mama lifestyle!
Turns out it couldn't be easier. This is my night-time snack edition (in the afternoon I might indulge in a bigger serving, maybe, definitely).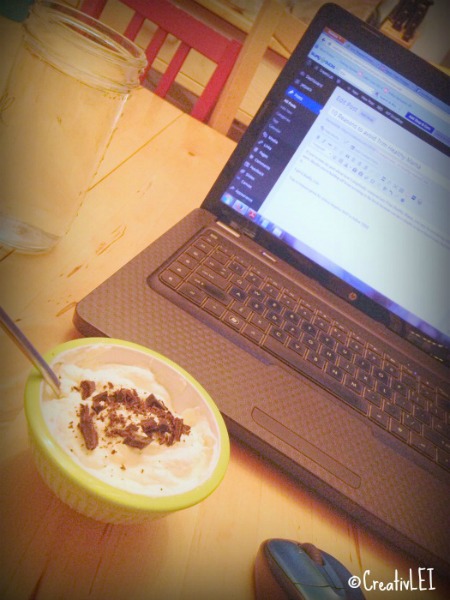 You'll need good ricotta cheese. Part skim or whole is fine, as few ingredients as possible on the label, ricotta is a simple cheese and ha no need for stabilizers, avoid those brands with more than four ingredients, not worth your taste-buds! You want a nice creamy ricotta that is naturally low in carbs.
Enjoy by the spoon!
My children enjoy this treat, too. To them it's like ice cream. This is an S (satisfying) treat for those following the Trim Healthy Mama lifestyle.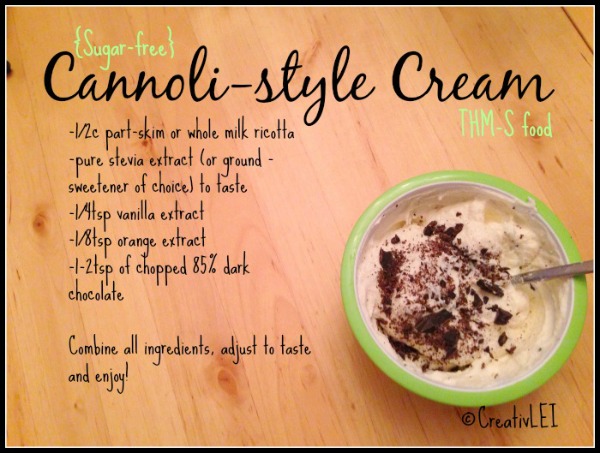 Cannoli-style Cream (THM-S)
Cuisine:
Sugar-free, Low-carb, Italian
I'm from New York, I'm Italian-American, I love cannoli cream! Here's the next best sugar-free taste of the 'real' thing. This is an S (satisfying) treat for those following the Trim Healthy Mama lifestyle.
Ingredients
½ cup part skim ricotta cream
2-3 scoops pure stevia extract (the scoop included in the canister)
⅛ tsp orange extract
¼-1/2 tsp vanilla extract
2 tsp roughly chopped 85% dark chocolate
Instructions
Mix together all ingredients and adjust sweetness if necessary. You may want to add a tad bit more orange extract to get the citron flavor from the authentic cannoli cream.