For the past couple of months I have been piecing together our resources for the upcoming homeschool year. Over the next few weeks I plan to share many of them with you. Today I'll start this series by introducing you to how we will be drawing through the bible using The Picture Smart Bible during our 'circle time'.
**Disclosure: A download of The Picture Smart Bible (TPSB) K-3 version was provided for my use in exchange for an honest review. I am an affiliate for TPSB and this post contains affiliate links. I am committed to promoting only products and services that our family uses in good faith. Please read my disclosure statement here for more details.**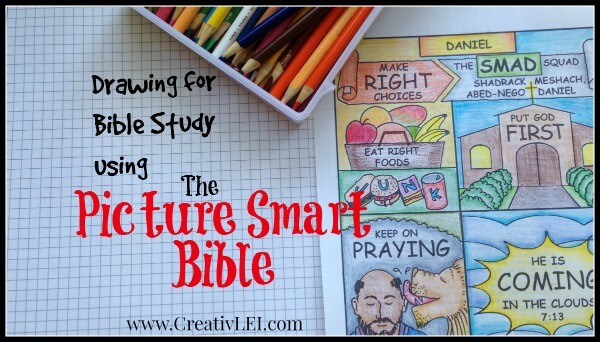 [pinit]
Earlier this year I began keeping a visual journal for studying through the bible. I had originally come across the idea from
Pinterest
(shocking, I know) by a pin from Kari of
Stone Soup for Five
. She keeps legacy bible journals for her family and I was intrigued. I signed up for
The Bold Year Challenge
and started right away incorporating drawing through my bible study. I immediately thought my children would enjoy it, but like most things art related, I struggled with how I could communicate the instruction to their level.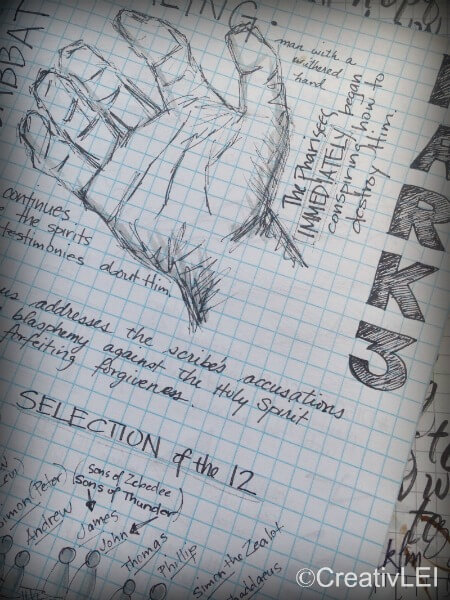 I've had many years of art instruction and experience, and that often doesn't translate easily into instruction for my children.

When I came across The Picture Smart Bible I thought it was a brilliant solution. The planning was already done for me and this will be added into our circle time 1-2 times per week. Instead of handing my children an overwhelmingly blank piece of paper, I can print off student sheets that provide them with the outline of their drawings.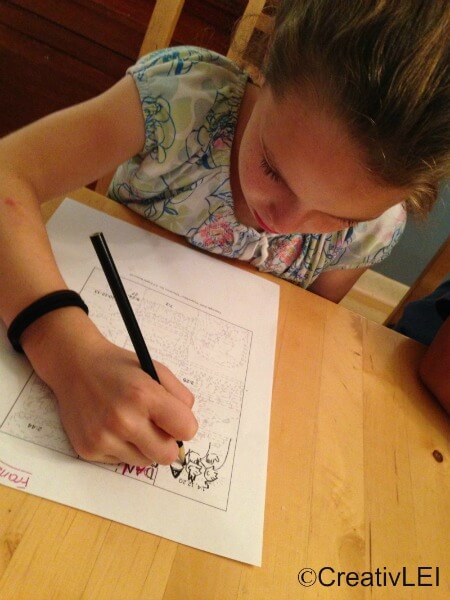 These will be placed into sheet protectors as they complete them and added to our annual binders.

At first I thought all the children would use the original version (written for approximately grade 4 and up), but I was really excited to see the creators of TPSB released a K-3 Old Testament version this year and are currently writing the New Testament version.
We've started working on Daniel together (you can download Daniel as a free sample here, to try it with your family) and as you can see the K-3 version is perfect for that age group, I am certain I would have lost their focus had I tried to lead them through with the same student sheets the older children are using. (The K-3 version is on the right, the student sheet on the left is from the original version for grades 4 and up.)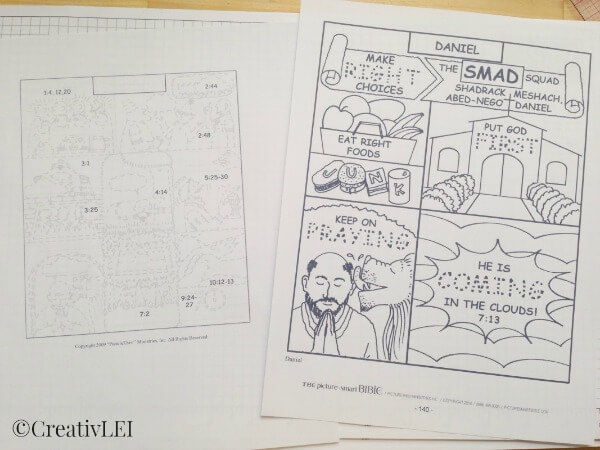 I colored in the master sheet to give the children ideas of how the finished page can look. They'll trace the dotted words in marker and then use colored pencils for all of the details. I like that there are suggestions for incorporating more craft ideas if you wish, but they aren't necessary for completing the books.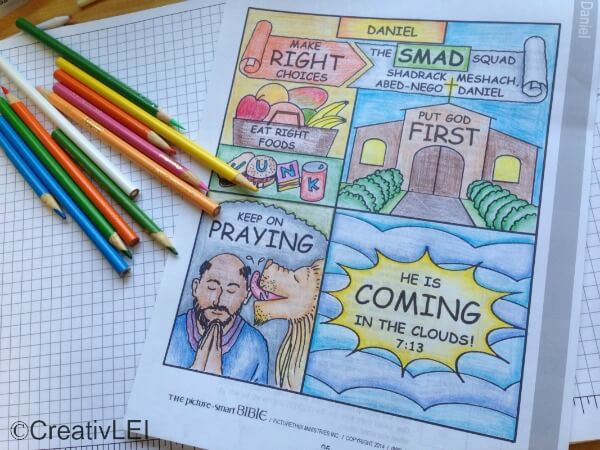 Each of the children really enjoyed this approach. Nate, my new kindergartener, recalled what he remembered from past readings of Daniel and participated in our discussion as he carefully traced and colored.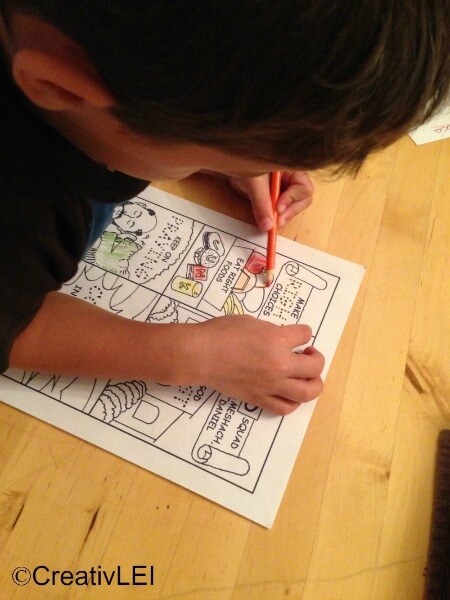 My older children are patient while we concentrate first on explaining the K-3 sections and then add in the finer details of their level. I am hopeful that as we continue to use The Picture Smart Bible during our circle time the littler ones will continue to work with diligence on their drawings and listen to the details that I'm reading to the older three.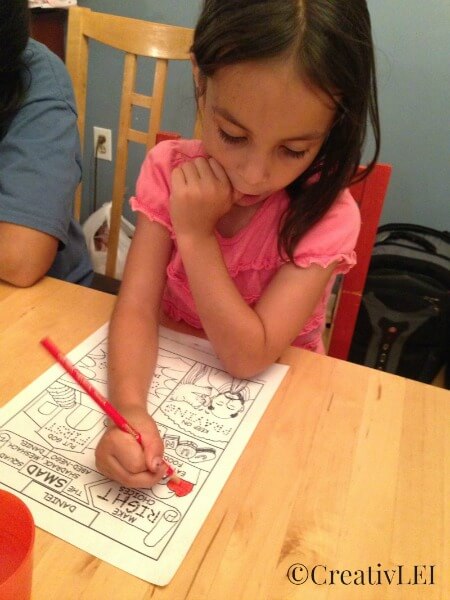 As I continue to lay out our new year I will be reading ahead for each book to make sure that I am smoothly presenting the information from both versions. Since there is concise scripting in both versions, this should take me only a minimal amount of preparation.
Another feature of The Picture Smart Bible that I am pleased with is how it can easily be used to help teach my children to do their own inductive study of the bible. I want to disciple them to use the bible as a primary source. I want them to know how to understand what God is saying to them through His word. The Power Symbol key will be very helpful in this instruction.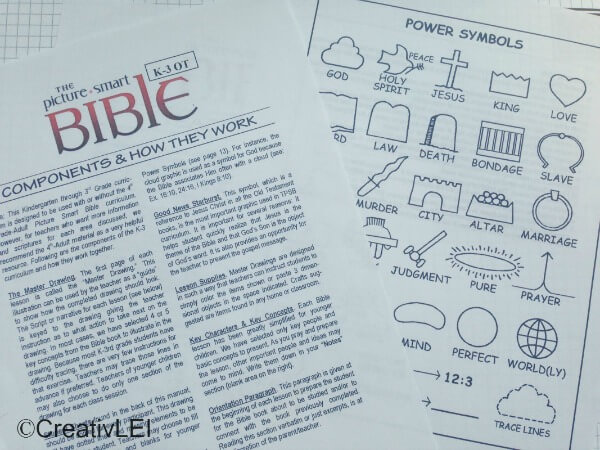 Have you looked into using The Picture Smart Bible with your family? We enjoyed sampling through it together at the dinner table while I plan it into our daily circle time for the school year.
During the months of October and November you can receive 35% off Picture Smart Bible resources! Use the code All35 at checkout!
This post is part of my series on planning the upcoming school year. Be sure to check back throughout July and August for posts on more of the great resources our family will be using.