If you've seen my post about how I ventured into Trim Healthy Mama, you may be wondering what exactly my questions were. Maybe you're holding off from investing in the book because you have doubts or have heard some bad feedback or criticism of it.
I get it. Really, I do.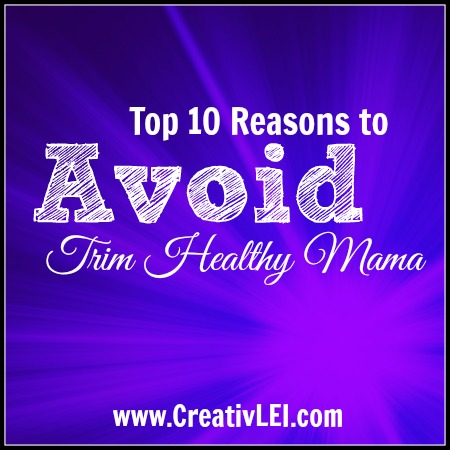 [pinit]
(Many of the links in this post are my affiliate links and are noted as such, sales through those links provide me with a small commission with no additional cost to you. Please read my
disclosure policy
for further details of my sponsor and affiliate relationships.)
Top 10 reasons given by critics/skeptics NOT to follow THM
So here's my stab at answering the critics and their reasons why you shouldn't try Trim Healthy Mama.
**Please understand I am not a medical professional and my opinion does not take into account your individual health circumstances. If you have underlying health concerns, please consult with your primary care physician before making any changes to your current care.**
10. It's just like Atkins or other low-carb diets.
The low-carb portion of the Trim Healthy Mama lifestyle is only one portion of the big picture. Carbohydrates are not the enemy, THM seeks to educate you on making smart carb choices to compliment your health instead of raising your blood sugar. While eating healthy fats is encouraged, eating half a pound of bacon or drinking a cup of heavy cream in one sitting is not.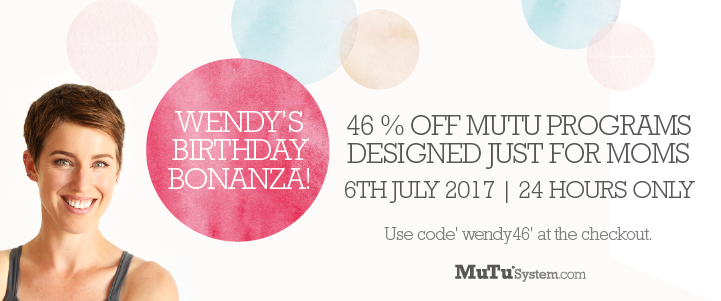 9. Oh, it's a Paleo diet.
No. While there are many Paleo-style recipes that can be easily adapted to the THM lifestlye, they are not the same. Grains, legumes, and dairy are welcome items for THM followers (unless you have an allergy), when used in the appropriate setting. Also, Paleo diets make some evolutionary assumptions that I just can't get behind.

8. You have to eat 'frankenfoods'.
The beauty of having two sisters from different schools of 'food-thought' write a book on nutrition is that all walks of life are considered, those who like to keep their foods closest to original source (Farm Fresh Tess) or those that prefer the ease of convenient open and go items (Drive-thru Sue), or someone in-between, like me! You can adapt the principles of THM to your family in the way that make the most sense for your household. You don't ever have to buy any 'frankenfoods', if that's your preference. I've never tried Dreamfields pasta or Splenda-sweetened goodies, and I limit my use of Laughing Cow cheeses and low-carb breads. I am not trying to replace all of my 'comfort' foods with their low-carb or low-fat equivalent, I've allowed THM to help me redefine the way I looked at food, not give me a 'healthy' way of doing the same things I always have.
 7. Real food, like honey and bananas, are off limits.
Honey has a high glycemic index (only slightly lower than table sugar). If you are struggling to lose weight, honey is not your friend. THM does NOT say that it is a forbidden food, but it is put in it's proper place. Raw honey is undeniably useful as a natural health remedy, but that doesn't mean liberal indulgence, it means using it medicinally in small doses. Honey is a very appropriate sweetener for children and others who do not suffer from insulin resistance symptoms. Bananas, like many tropical fruits, also have a higher glycemic impact. They are not forbidden, either. They can be used in an 'E' (energizing) setting, in conservative amounts. While I was trying to lose weight I chose to avoid bananas because I used them too much in my Weight Watchers days. Now I'll add half a banana to a smoothie on occasion, but not daily and sometimes not even weekly. I make a mean pineapple, coconut milk, and banana smoothie that reminds of a Dole Whip. It's a great 'sometimes' treat.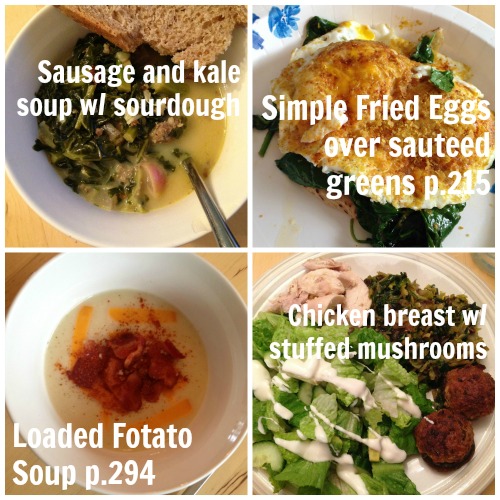 6. They tell you to use artificial sweeteners.
This is often a personal point of contention. I did not want to use stevia. "It tastes artificial," was my big gripe. Stevia extract is a natural sweetener, it is made from the stevia plant. However, it is processed. So is all of our 'real' sugar. This was a hitch I had to get over. I found that there was a trick to finding just the right sweetness using stevia and avoiding the bitterness that get when you use a little (or a lot) too much. All stevia products are NOT equal. Many stevia products on the market contain fillers that aren't beneficial and taste awful! I use Trader Joe's Pure Stevia Extract and Liquid Stevia and Sweet Leaf flavored stevia extracts. Some people with ragweed allergies will also have sensitivity to stevia, since they are in the same family. If that's the case, you'll have to get a little more creative finding your 'sweet'. Artificial sweeteners, such as sucralose (Splenda), aspartame, and saccharine are NOT endorsed by THM, neither is agave nectar. There are two sugar alcohols that are sometimes used in THM dessert recipes, erythritol (Truvia is a blend of erythritol and stevia) and xylitol. I use both with no issue, but I do not use them daily. I would recommend researching the pros and cons of each to decide if they are okay for you. My favorite on-plan sweetener is the THM Sweet Blend. It's an erythritol/stevia blend that has the best flavor I've found!
5. All they talk about in the Facebook group are dessert recipes.
Yes, if you scroll through the Facebook group, you'll find a LOT of dessert and treat recipes shared. Honestly, these are not the main point of the THM lifestyle, but the fact that there are many delicious on-plan treats to satisfy your cravings makes this a sustainable lifestyle change. My theory is that THM is very easy to apply to preparing your main meals, however there are new challenges with using nontraditional flours for baked goods (coconut, oat fiber, almond flour) and finding the right ratio of non-glycemic sweeteners. The group is a great place for tips, tricks, and inspiration. I'll try my best to share some main meals that are prepared by the THM principles, like my Chicken Cacciatore.

4. You have to count carbs and track fat grams.
No, you don't! I don't count carbs or fat. I am mindful of appropriate portions and watching that I eat to satisfaction instead of fullness. I find that choosing foods from the 'S' (satisfying) or 'E' (energizing) categories is all I need to really know. Occasional crossovers (combining S and E) are okay, because they're still healthier choices than my old ones.
3. You can't eat bread.
I LOVE bread. Warm, fresh-baked, bread.  It isn't contraband! Sprouting and/or sourdoughing ensures you're getting the available nutrients from the whole grains you use. I even enjoy grass-fed butter on my sourdough bread, a delicious crossover. My meals, however, no longer center around a starch. Breads and grains have been relegated back to side-dish status.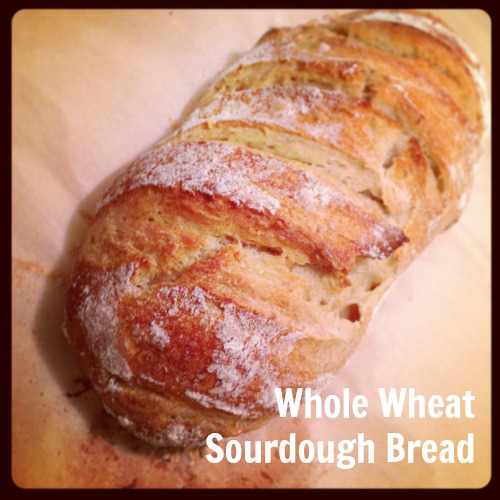 2. You'll be in the kitchen all day long.
No, you don't need to be. Eating healthy takes being conscious of your meal choices, but it doesn't mean you need to be a slave to your kitchen. In one evening I can make a bunch of snacks to last a couple of weeks. My crockpot is still helpful for days that we're running full-tilt and want to avoid take-out. I do not set an alarm to eat every three hours, I listen to my body. If I'm hungry, I eat. I don't like to complicate things. I do best when I shop for produce weekly and have a well-stocked freezer and pantry.
1. It's just a fad.
It's fairly new, it's gaining rapid popularity, and it is different. However, the overall health information and nutrition tips given in THM are the type of changes that are sustainable. Instead of a diet mindset, where I'd make changes 'for a time' or 'until I've reached a certain weight', I'm finding that what I've learned through THM colors my thoughts for my nutritional choices. Sure, we can get donuts after church, but I'll only have one and I'll be having some sort of protein with it to lessen the glycemic load. Want to grab some burgers from Five Guys? I'll have my bacon cheeseburger without the bun, and I'm only going to have a few of the deliciously greasy fries. I can satisfy the craving without binging. Enjoying kid's night at the local steakhouse? Easy peasy. I'll have my steak and a side salad with creamy dressing (S) and take the yummy sweet potato (E) home for tomorrow's lunch. To avoid falling into fad-mentality, I'm not saying NEVER and ALWAYS. You won't hear me say things like "That will never cross my lips again."

Sustainable change doesn't happen in the extremes, it comes in the healthy, practical application.
So there you have it. Hopefully I've given you my answers to some of the most common  questions and 'complaints' about THM. Did I miss any?


What are some of your concerns or criticisms of Trim Healthy mama?