Yesterday I shared what not to say about the death of a baby. Today I'll share with you what is appropriate to say.
**Please remember that saying nothing should not be your choice. If a mom has let you know that she has lost a baby, then she has already shared with you an intimate piece of her life and ignoring it is hurtful.**
People who are silent about loss claim they don't know what to say when a baby dies, so they say nothing for fear of bringing up something uncomfortable.
Day 7 of Capture Your Grief: What to Say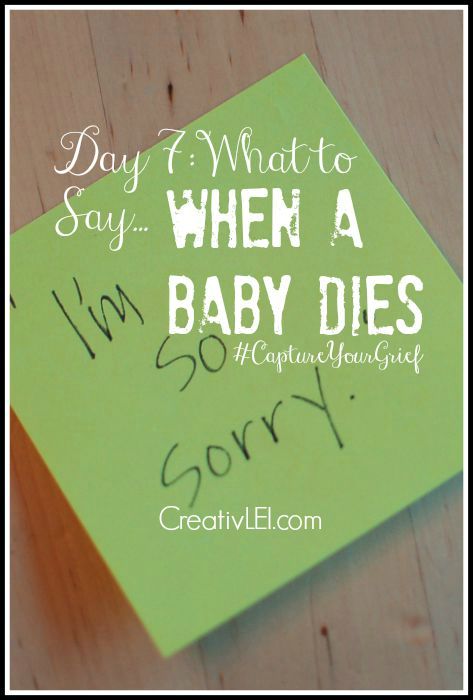 "I'm so sorry."
Yes, that's really it. I told you the list was short.
When a baby dies, say that you are sorry for their loss. Share your condolences, offer a hug if appropriate, don't be afraid of tears. But stop yourself from adding qualifiers to those sentiments. It isn't the time to compare loss. Do not bring up the death of a pet, or the loss of a friend or relative. Do not compare loss.
Comforting someone in their time of grief is not the time to bring up your burdens.
We all have valid and deep difficulties and losses, but in the midst of another person's trial it is not the time to seek sympathy for our own.
Loss doesn't need qualifiers or take requests.
What ever loss you are experiencing is a great trial for you and your family, and it is likely to be very different from the one my family walks through. I can not tell you "I know how you feel" nor can you say those words to me. Even other loss moms can't always truly say this. Unless our stories are identical, we too are walking unique paths. There is, however, an understanding of the senselessness of a baby's death and we unite through that.
Let your words be few and your actions speak loudly.
Do not place the ball in the bereaved hands by telling them to call you if they have need. They may never really wrap their minds around what they physically need. If you truly want to serve the family act on that feeling. Bring a meal, while you're there offer to fold or wash laundry, take out the trash, call when you're in the grocery store to see if they need milk, bread, toilet paper. Take care of what seems meaningless and you will bless their hearts.
Don't ask how they are doing unless you want to listen and hear the truth.
Don't fill the air with words just to avoid awkwardness. Idle chatter can hurt when what's filling my mind is thoughts and memories of my daughter.
"I'm so sorry." That's really all there is to say when a baby dies.
**Capture Your Grief is a 31 day photo challenge created by

CarlyMarie

. For each day of the month during October (Pregnancy/Infant Loss Awareness) bereaved parents are encouraged to share their journey through photographs as a way to share the healing process. I am participating in this series and will resume sharing our homeschool journey, recipes, and life in general in November. Thank you for your thoughtful understanding while I share my heart this month.**