When your child dies you need to hold onto something tangible after their loss.
Losing a newborn or an unborn child magnifies that need.
We grasp for proof to show the world that our child existed. No matter how few days we had with that child there is an enormous impact on the rest of our days and the one thing we want is for the rest of the world to acknowledge that.
Day 4 of

Capture Your Grief

: Share a photo of a treasured item.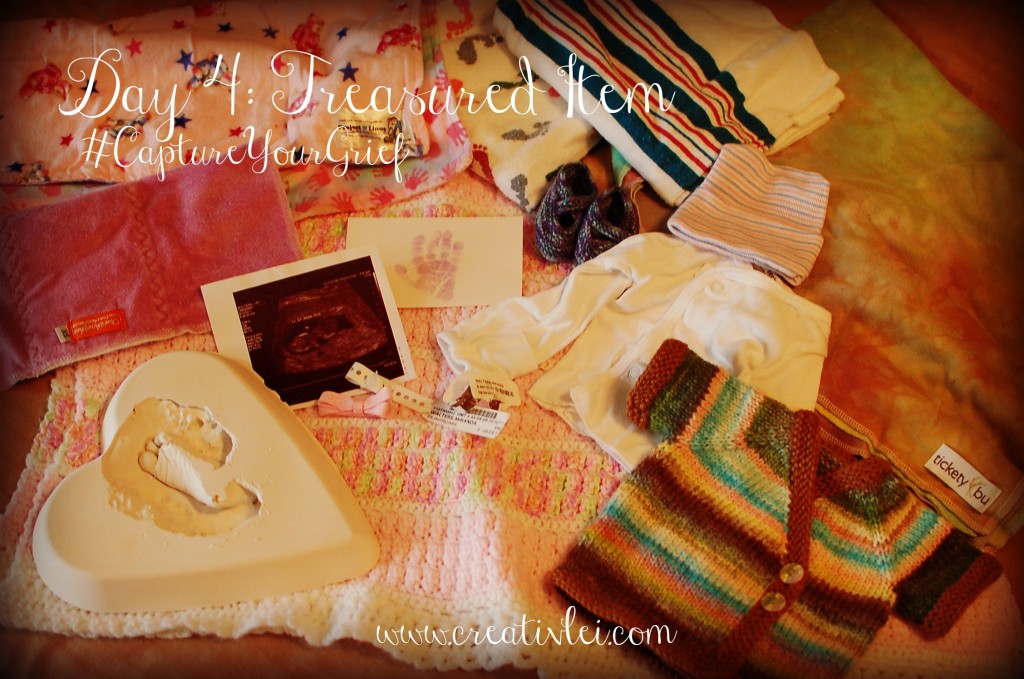 [pinit]
I couldn't choose just one item to share. Knowing that all the memories I would ever make with Miranda were the days of my pregnancy and her days on ECMO left me clinging to all the little things that touched her precious body or prove that she was alive.
I've held onto the things that touched her.
Among my treasured items are an ultrasound photo from my first scan, her hospital bracelets and the t-shirt and hat she wore when she was taken by ambulance to the local hospital. Before leaving the NICU at UMMC the nurse quickly grabbed the blanket Miranda had been laying on, it still had the tape that held her lines in place. While at JHH she received two blankets from Project Linus, one decorated her bed and the other was frequently used to cover her legs. I have the labels from the women who created them and I need to make time to sit and write them a note to let them know what their donation meant to us. The booties in the picture were one pair of many that I knit for her, but the only pair that were ever on her feet. I won't ever forget the RT, Maureen, who helped me place them on her little feet around the pulse oximeter on her toe and the thermometer on her foot. There is a velour prefold that was given to me by a dear friend I that I used as something soft and cuddly to place on Miranda when the PICU suite felt chilly. The little pink bow was placed on the cerebral oximetry sensor bands by one of her sweet nurses.
I've held onto the things that were part of her passing.
The other things I hold dear are the sweater I dressed her in after she passed. It was the first time I was able to bathe her and dress her in one of the garments I had made preparing for her arrival. We have one copy of her hand print that our child life specialist helped me capture. I only wish I had thought ahead to bring a permanent ink pad in a dark color. I am worried that this one will fade. I also kept one of the receiving blankets from her bedding at JHH. The Tickety Bu swaddling blanket was what she was placed on for her NILMDTS photos. I remember ordering them and the anticipation I had for wrapping her snug in them.
The other item in the picture is the foot mold I was given. The child life specialist and I fumbled to get a good impression of Miranda's foot but it was much harder than I would have imagined. I remember clearly the urgent feeling I had to get the mold done so that we could have our pictures taken with her before too many of the effects of time set in on her broken body. In the haste the mold is lacking in perfection, but is a very visual and tactile keepsake of one of her tiny feet. When we were leaving the hospital we were given the mold wrapped in fleece and placed in a decorative box. The box sat on my lap during the cold and long drive home.
The box was warm.
It surprised me to feel the warmth on my lap coming from the bottom of the box. It seemed tragically ironic that I would have never felt the warmth of health and life in my daughters body, but that I would feel it radiating from this keepsake for a few short hours.
Some of these items are stored, and only taken out when the children ask to see or I just need a reminder of her. Some will be placed in a shadow box and displayed in our home.
They're always nearby to comfort in the moments that she feels so far away.
**Capture Your Grief is a 31 day photo challenge created by

CarlyMarie

. For each day of the month during October (Pregnancy/Infant Loss Awareness) bereaved parents are encouraged to share their journey through photographs as a way to share the healing process. I am participating in this series and will resume sharing our homeschool journey, recipes, and life in general in November. Thank you for your thoughtful understanding while I share my heart this month.**