It took me time to find the perfect piece of memorial jewelry.
There are few pieces of jewelry that I wear regularly. My engagement and wedding rings, and my 3in1 ring. I also have a few necklaces that I sometimes wear when going out. My  favorite necklace was the floating heart mother's necklace that I purchased from Doodles Jewels, who I found through HyenaCart. When Miranda was born and was transported to the hospital I felt the urgent need to have her birthstone charm added to my necklace. Danielle had it sent to me as soon as I contacted her. It was good to place her charm with those of her siblings. When she passed I searched for the right memorial jewelry to honor her.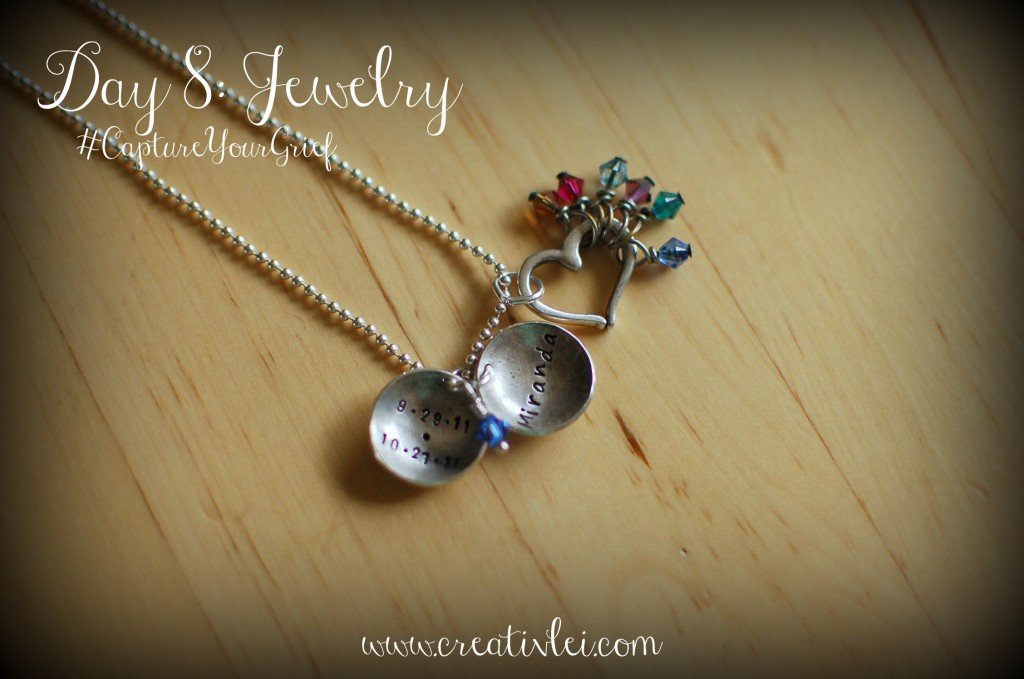 [pinit]
Etsy is full of beautiful handmade memorial jewelry. I much prefer handmade from manufactured.
Miranda was a unique blessing and I wanted the jewelry I chose to reflect that.
I returned to a shop I had received other pieces from, Anna Oarth Jewelry. Her designs fit my simple style. I worked with her to customize a locket. The front has two footprints and it opens to reveal Miranda's name, dates, and birthstone. The back is stamped 'John 16:22' a meaningful verse for me in loss.
Therefore, you too have grief now; but I will see you again, and your heart will rejoice, and no one will take your joy away from you.
My locket was modestly priced, but it is precious to me.
I wear it almost everyday and often fidget with it. There is a peace in the tactile presence of a reminder of my daughter.
Do you have a special piece of jewelry that reminds you of someone dear to your heart?
**Capture Your Grief is a 31 day photo challenge created by

CarlyMarie

. For each day of the month during October (Pregnancy/Infant Loss Awareness) bereaved parents are encouraged to share their journey through photographs as a way to share the healing process. I am participating in this series and will resume sharing our homeschool journey, recipes, and life in general in November. Thank you for your thoughtful understanding while I share my heart this month.**