I don't have a niche. I blog about my life… and sometimes my life is all over the map.
When I'm posting I worry about how my posts seem to jump from topic to topic, from infant loss to homeschooling to recipes and so on. How do I make sense of it all and is my lack of focus sending people away?
I have resisted becoming a '_(fill in the blank)_blogger' with a single strong focus.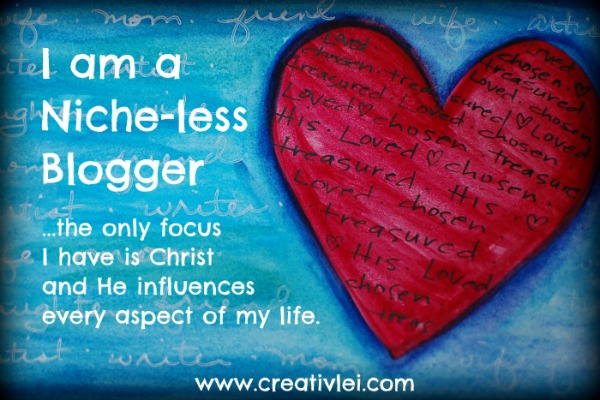 [pinit]
If you didn't know all of what makes us, well, us… it just wouldn't be real and you would be missing a huge piece of the story.
When I write  run my posts against certain criteria:
Has God placed these words on my heart? (Each post is prayed over before being published. I know that not all of you are Christians, but I am and I am cautious to make sure my words and actions match up to my beliefs. I want to obedient to His leading in all things.)
Is it something that should be shared? (Will my husband be honored or shamed by what I am sharing? Will my children be excited to share it with others or will they be embarrassed that they've been mentioned? Is it too much information for those I haven't met in person?)
Will this benefit those who read it? (Believe it or not I do consider you when writing. I want my blog to be more than a journal, I want to know that someone facing something I have/am can look here and find encouragement or resources for assistance.)
Is it a true reflection of us? (I do not ever want to misrepresent who we are. I try to ensure that what you see here is exactly what you'd see if you came to visit, have a play-date, or cup of coffee. Well, minus a dirty bathroom… I don't think anyone should see that.)
Would I want to read it? (I wouldn't want to frequent a blog that always said a variation of the same thing. I don't want to bore you. I promise not to post about every time it takes us three hours to finish a math lesson. I hope there is a time that I won't have anything new to post about my former midwife, but until the time that the BoN's decisions are final and justice has been served I will post every single thing I can to make sure no parent faces the reality that we did when her hidden past became into public eye.)
I'd love a little feedback.
Am I doing okay with categorizing my posts so that if you are reading for something specific you can find it? Will you stick with me through my random posting or am I driving you nuts? It's okay, I can handle it. What would you like to see more of? Less of (again, I can handle it)?
You all are important to me and I appreciate each of you that takes the time to read my blog.