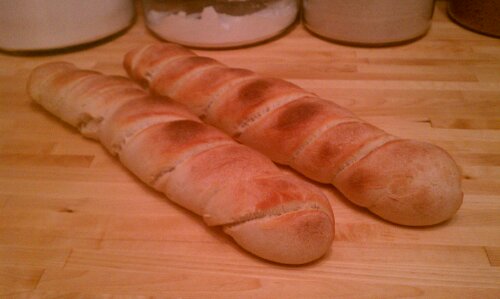 [pinit]
This is my go to "I-need-bread-for-dinner-but-there's-no-time-for-a-slow-rise" bread. It doesn't have the chewy crust or the delicious crumb (custard) of the Artisan Bread in 5 Minutes boule, but it has quickly become a family favorite.
Here is my version of this recipe:
2 cups of warm water
2 1/4 tsp (or one packet) of yeast
1-2 tbsp sugar
Combine above ingredients in the bowl of your stand mixer (it can be done by hand, but you're in for more work than necessary for this quick bread) and allow the yeast 5-10 minutes to activate.
The add:
2 tsp salt
4-5 cups of flour, more of less depending on how the dough looks. I find I usually need about 5 cups to produce a smooth elastic ball that isn't too sticky.
Knead with the dough hook for about 10 minutes (when all the dough pulls away from the side of the bowl).
Now you're ready to shape the loaves.
Preheat your oven to 450 with one rack in the center position and one in the lowest, place a shallow pan on the bottom rack (I start preheating while I'm shaping the loaves, this gives it a little time to proof before I pop it in the oven).
Divide the dough into 4 even pieces. Dust your work top with flour and roll each piece into a long thin rope (about 15-18 inches), then twist two together to form each loaf. Place on a parchment lined cookie sheet.
Once the oven is heated pop the sheet in and add 1-2 cups of hot water to the shallow pan, this creates the steam that will give you a crispy crust.
Bake for about 15-18 minutes. DO NOT OPEN THE OVEN WHILE IT BAKES, you'll let the steam out. 😉
Let them cool on a rack for about 10 minutes before slicing.
Enjoy!