I've written before about how important it is for loss-moms to hold onto items that are special memories of our deceased babies, but the challenge is to create a special place of honor for your lost baby in your home.
Day 9 of Capture Your Grief: Special Place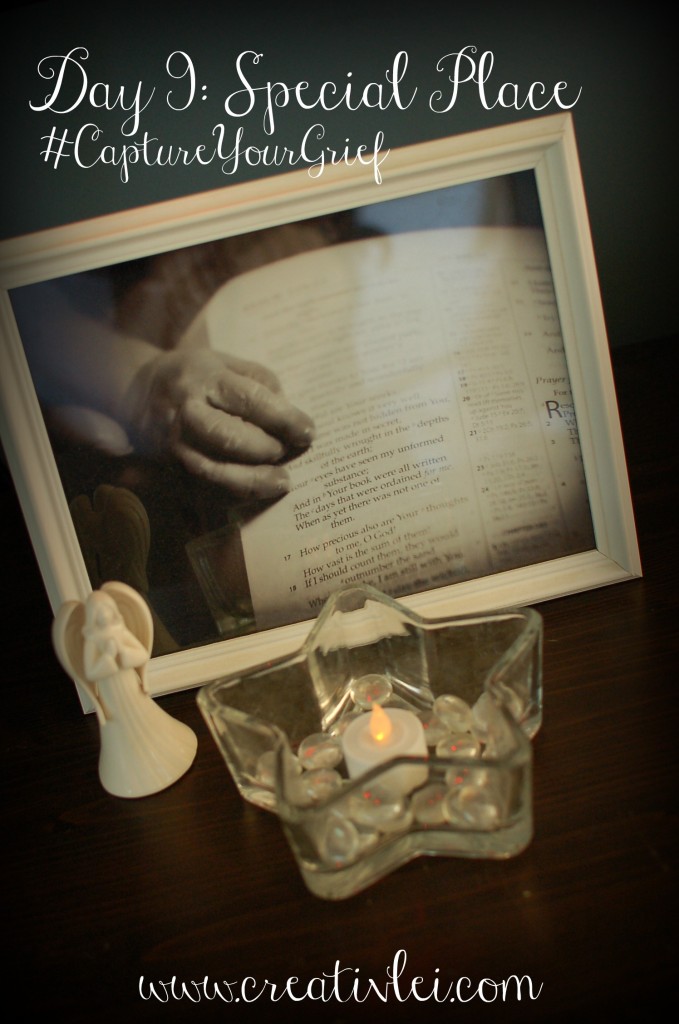 [pinit]
I will never again have new pictures or keepsakes from Miranda.
I don't want to keep all that I do have hidden away in a box.
The items in this picture are not those that touched her body, it is a photo, a small statuette that was sent as a gift to us and an LED candle in a star. Her photo is from her NILMDTS portraits done by Kimberly Brooke Photography. It is Miranda's hand on my bible over Psalm 139.
13 For You formed my inward parts;
You wove me in my mother's womb.
14 I will give thanks to You, for I am fearfully and wonderfully made;
Wonderful are Your works,
And my soul knows it very well.
15 My frame was not hidden from You,
When I was made in secret,
And skillfully wrought in the depths of the earth;
16 Your eyes have seen my unformed substance;
And in Your book were all written
The days that were ordained for me,
When as yet there was not one of them.
The statue is an angel that was given to us as a gift. I'm not of the belief that Miranda is an angel. I believe that angels are an entirely different creation from God, not our deceased loved ones. I do not purchase any type of cherub baby style angels. They do not match the descriptions of angels we find in the bible. This statue is fairly plain and just a reminder to us of Miranda's home in Heaven.
The LED candle came from a memorial service we attended last November that was organized by a local hospice group. The candles were part of the service when the names of each child who passed away were read and their picture shown overhead.
These items sit on display in our living room on the top of our entertainment center.
They're easily seen by anyone entering our home and a reminder that one of our precious children has already gone home to our Savior.
I guess in my mind, keeping these things on display invites guests to ask about our daughter because we keep her visible. I want people to know that it is okay to talk about her or ask about her because she is such a constant part of our lives.
She has a special place in our hearts and our home.
**Capture Your Grief is a 31 day photo challenge created by

CarlyMarie

. For each day of the month during October (Pregnancy/Infant Loss Awareness) bereaved parents are encouraged to share their journey through photographs as a way to share the healing process. I am participating in this series and will resume sharing our homeschool journey, recipes, and life in general in November. Thank you for your thoughtful understanding while I share my heart this month.**